In cooperation with our CSR-partners, who we call Cool Dogs, we make a difference to neglected children and their families.
As a company you can become a Cool Dog and receive experience based communication internally and externally, storytelling that strengthens your CSR-profile, creates relations and builds brands, and social change that lives out your values and strengthens the social bottom line.
Is your company interested in becoming a Cool Dog?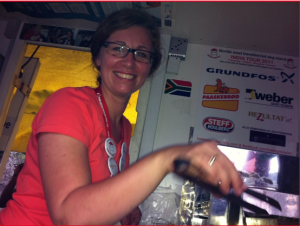 Anette Kalle


Global marketing director Lantmännen Unibake

Quote after participation as a volunteer Hotdog Agent on the trip to India in 2011.
"Around us there are lots of good initiatives which all intend to create social change – many stories, destinies, actions that easily can get lost in the crowd.

Pølle are able to stand out and carry its good and special story for stakeholders, collaborators and the media with its directness, joy and breach of stereotypes.

Pølle literally opens doors which makes it possible to communicate the more serious messages in places where otherwise wouldn't be possible. And in a way where cultural norms and unwritten rules partly can be shut out in favor of the projects.

Pølle can create involvement in eye level – meet us as the people we really are behind the nice titles or the poor conditions and trigger our curiosity. The meeting with Pølle is one of the experiences that lasts remarkably longer than the time it takes to eat the traditional Danish hotdog."
"I definitely think that it means something that you take responsibility and that you take part in different aspects that does something positive for the world, so that it's not all about money."
"…it was a really good project and the only one of its kind in the world and moreover it's very close to our core values that in the Fastfood part is sausages which we would like to help with."
"I think that it is amazing especially with local initiatives. It is an Aarhus invention and a terrific way to collect for specific small matters."
"It means something to me that the company reflects on social responsibility. I have great respect for companies that support social projects as it shows quality."