To create social change in Denmark, we have visited USA, France, Germany, England, Italy, Portugal, Netherlands and Belgium.
In Denmark the Hotdog stand focusses on many good causes to support exposed children and their families. Both through the big campaigns and events during the Hotdog stand's travels and by continuously supporting various good initiatives that we think need awareness and funds for their work.
Read more about some of the projects below.
Besides these, the Hotdog stand has, among others, also supported:
The homeless in Aarhus
Christmas Wishes 
The Laundry – a practice course for disabled people
Kids with Cancer

The Danish Hospital Clowns
Safety in trafic for kids
Klostercafeen in Aarhus – A drop-in center

Zonta Club Aarhus II – Help for exposed women and their children
Families with a child having cancer
LEV – Landsforeningen Evnesvage Vel
Trygfonden's family house at Aarhus Hospital
Youth with Cystic Fibrosis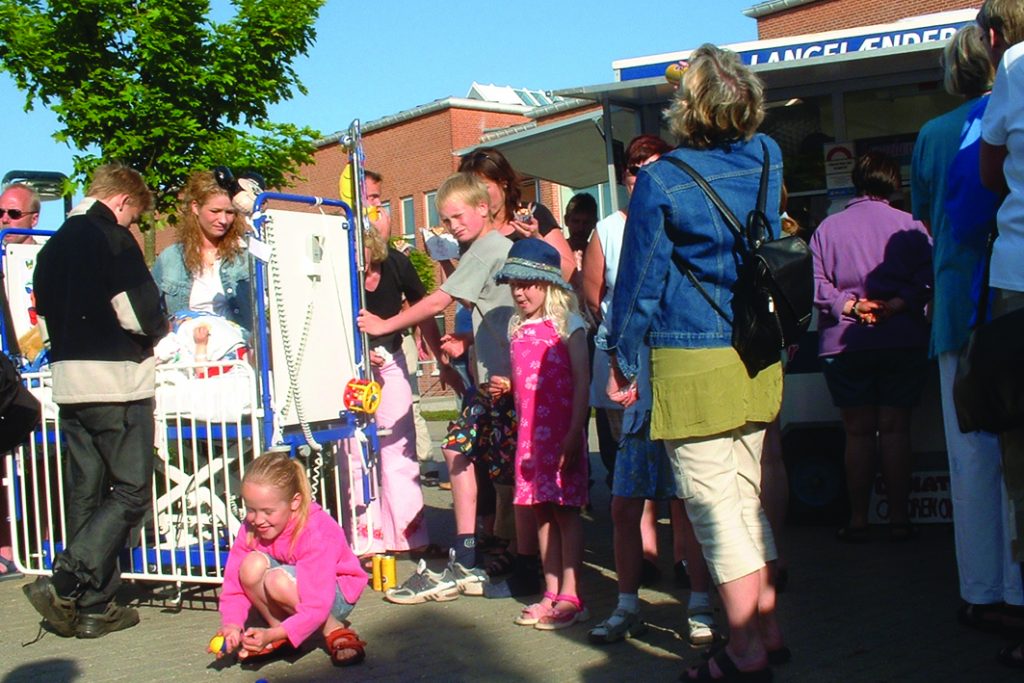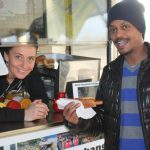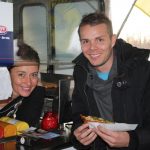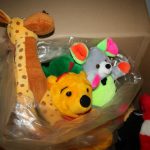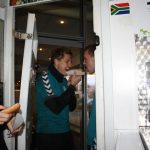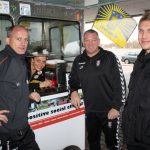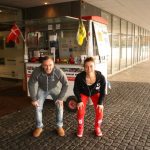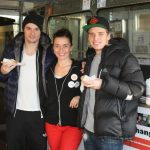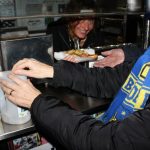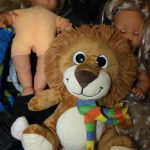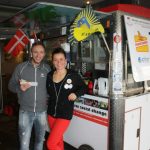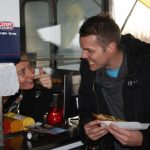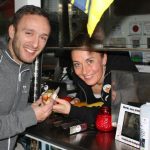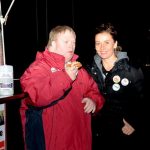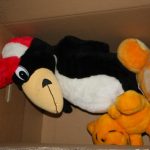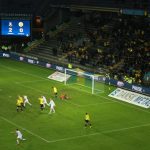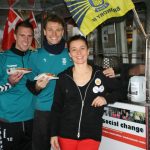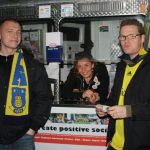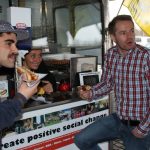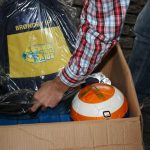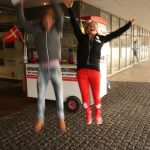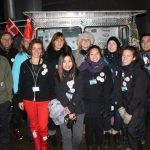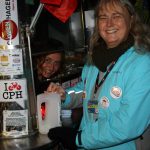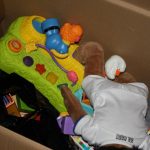 SOCIAL VALUE: TOYS FOR DANISH PRISONS
In 2012 we went on "Tour de Superliga", where we collected toys in exchange of hotdogs in connection to the league matches in OB, AGF, AaB and Brøndby IF. The toys were to spread joy and happiness for children, who visit their parents in prison.
96 boxes of toys collected. Thereby enough for several good causes – lovely!
48 boxes of toys for EXIT, which filled all visit rooms in the Danish prisons.
46 boxes of toys for Red Barnet, Familiecenter Viborg, Kongelunden Asylcenter and Det Blå Hus in Spjald.

2 boxes of toys for a visit rooms in prisons in Cambodia.
SOCIAL VALUE: CHILDREN WITH ARTHRITIS
In Denmark about 75 children are diagnosed with arthritis every year, and about 600-700 children live with the diagnosis. Therefore the Hotdog stand raised money through events in France and USA and through an auction.
Awareness about that fact that children also suffer from arthritis.
The meeting with Ole Henriksen in Los Angeles inspired him to support the Danish Arthritis Association.
109,609.96 DKK collected.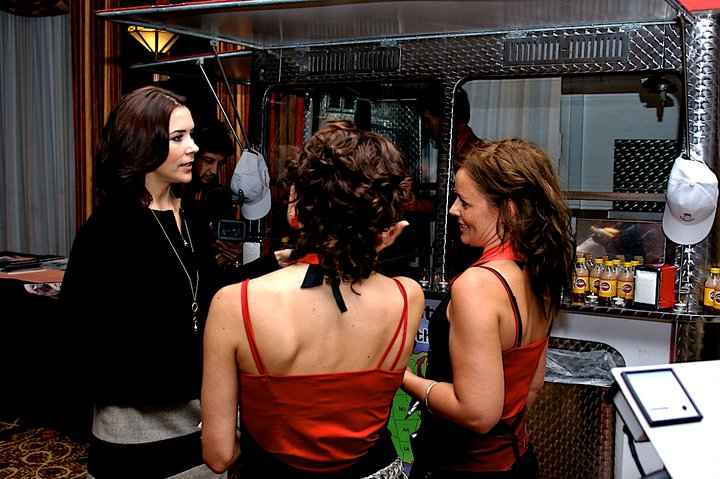 SOCIAL VALUE: MATHILDE – A GIRL WITH BRAIN DAMAGE
Because of a brain damage, Mathilde she was likely to be placed in an respite care home away from her family at an age of merely 4 years old. Her parents couldn't bare her being moved away. However, they knew of a treatment called the Doman program in USA which could help he. But the commune couldn't grant the money for this. Therefore the family tried to provide the money themselves, and in cooperation with Martin Jørgensen who was a professional football player at the time, the Hotdog stand chose to help them reach their goal.
In 2005 we travelled to Italy and collected money to supporting Mathilde.
The treatment and the training through the Doman program has strengthened Mathilde's senses and motor function and has improved her life significantly.
Exposure in the media, which gave an understanding of the situation and support for the family.
In total – inclusive our and others' support – about 500,000 DKK for Mathilde's treatment was collected.
SOCIAL VALUE: THE ASSOCIATION DOWNS SYNDROM
We supported the association Downs Syndrom at our trip to the big football clubs in Germany in 2005.
We visited the Danish players Ebbe Sand, Christian Poulsen and Søren Larsen in Schalkem Søren Colding, Tommy Bechmann and Peter Skov-Jensen in Vfl Bochum, Thomas Helveg and Kasper Bøgelund in Borussia Mönchengladbach, Jon Dahl Tomasson and Jesper Grønkjær in VfB Stuttgart, Leon Andreassen, Kasper Jensen and Daniel Jensen in Werder Bremen.
Afterwards Fanny appeared in TV2's program Go' Morgen Danmark with Peter Palland and Morten Jensen to tell about the project.
Morten and Peter both have Downs Syndrome, are known from TV2's documentary created by Nick Horup and were a part of the Hotdog-team in Stuttgart.
When the program ended, a man called to tell the Chairwoman of the association that he wished to donate his whole fortune to them when he died.
Besides the check, Pølle created awareness of the association and they received as much help as possible.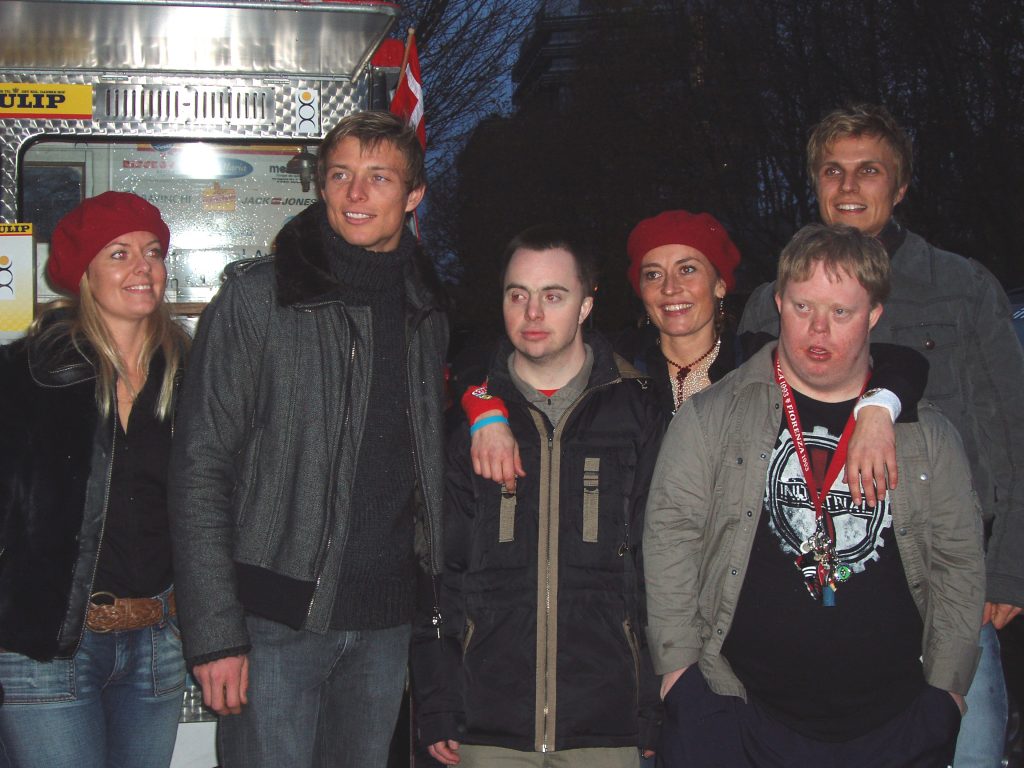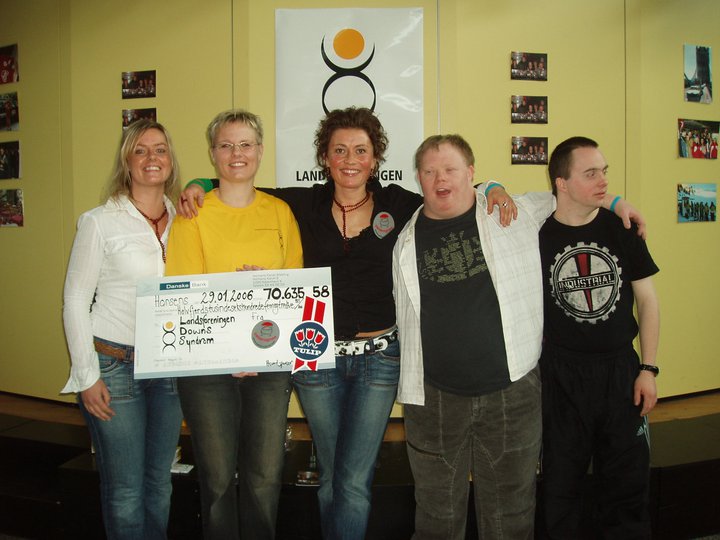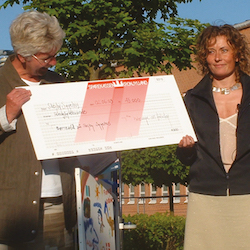 SOCIAL VALUE: CHILDREN'S WARD IN SKEJBY HOSPITAL,Pølle's first trip in Europe supported overlooked children's wards in Skejby Hospital, Aarhus. These were wards that received very little attention and few to no donations.
Attention of children's wards for small and unknown disease areas.
45.000 DKK collected on the Hotdog stand's first mission.
OUR OWN STUFF " Tour de What's happening?"
In 2019 we start Tour de What's happening?" to give neglected kids in Denmark a cozy and unique experience with lots of crispy hotdogs, fun and joy.
Our first visit to a kids' home was in October 2019 and the two former professional soccer players Martin Jørgensen and Jesper Grønkjær joined. The next one was in March 2020, where head coach Peter Sørensen and six players from Hobro IK's Superliga team joined. All the kids simply loved it all. 
New collaboration
Pølle has embarked on a rewarding and meaningful partnership with KidsAid to support their noble cause. "KidsAid's primary purpose is to create unique experiences for sick and vulnerable children and young people in Denmark. Each year we reach approx. 1200 children and their families. "
We are really looking forward to participating in this year's events which include hospital visits, Star Golf and Made in Denmark (golf). Our first time participating was at Trygfonden's Family House at Aarhus University Hospital, and our second time was on Thursday, May 2nd at the "Knus Cancer" with around 700 visitors.
Henrik Lundorff, head of the secretariat at KidsAid says: "We at KidsAid are excited about the collaboration and see a great synergy, together we can help a lot of sick children."